Holiday Greens Hanging Basket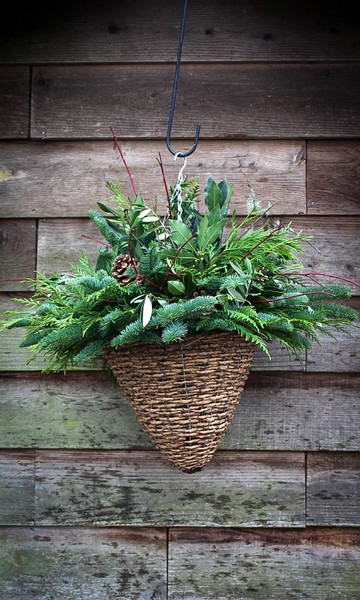 This item is available for Farm Pick-Up only and cannot be shipped.
A rustic woven rattan hanging basket hosts a myriad of evergreens that will last for months. The perfect way to bring the holidays to your porch or patio, this basket arrangement is packed full of cedar, bay, red twig, and olive branches. Floral foam anchors the arrangement ensuring your basket stays hydrated into the new year. A strand of copper twinkle lights adds a sweet touch when the evening arrives.
PICK UP AT THE FARM ON SATURDAY, NOVEMBER 21 or AFTER.
Caring For Your Natural Wreath
All Wreaths, Greens Baskets, and Greens Crates are intended to be hung or displayed indoors away from direct sunlight and or heat sources, or in a sheltered area where protected from extreme elements such as rain, snow, sleet, hail, humidity. Water regularly.