Citrus Gift Box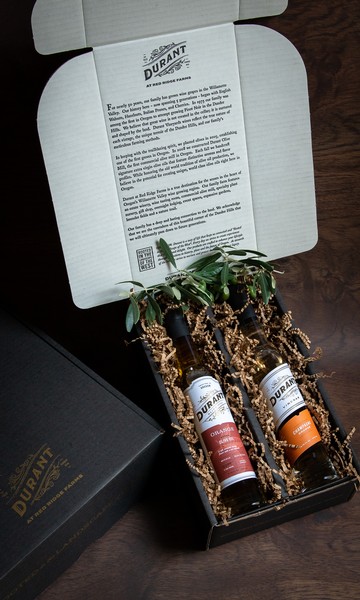 Celebrate the flavors of winter with this delicious combination of oil and vinegar. Durant Olive Mill Orange Fused Olive Oil and Durant Champagne Orange Vinegar make a beautiful dressing for winter greens, wild rice, or over avocados. Use the orange fused olive oil on its own for baking chocolate brownies, cakes or scones.
• Durant Olive Mill Orange Fused Olive Oil - Fresh oranges and olives are milled simultaneously, creating a fused oil with a bright citrus flavor. This olive oil is ideal as a salad dressing over bitter greens, tossed with roasted vegetables or wild rice salads, and can even be used to elevate the flavor of your favorite chocolate brownies. For a special treat, drizzle over vanilla ice cream.
6.76 oz | 200 ml • Milled & Bottled in Dayton, OR
• Durant Champagne Orange Vinegar - Made with ripe juicy citrus, this vinegar is a perfect marinade for chicken and seafood, or drizzled over avocado salad or fresh fruit.
5% Acidity • 6.76 oz | 200 ml • Bottled in Dayton, OR
• Durant Gift Box