Dishing up the Dirt
by Andrea Bemis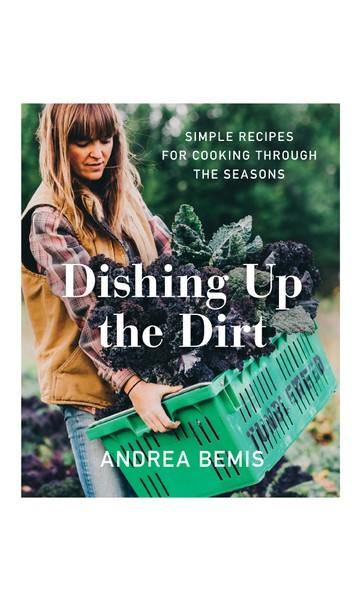 Andrea Bemis, the creator of the popular farm-to-table blog Dishing Up the Dirt builds on her success with this beautiful, simple, seasonally driven cookbook, featuring more than 100 inventive and delicious whole-foods recipes and dozens of color photographs.
For Andrea Bemis, who owns and runs a six-acre organic farm with her husband outside of Portland, Oregon, dinners are inspired by what is grown in the soil and picked by hand. In Dishing Up the Dirt, Andrea offers 100 authentic farm-to-table recipes, arranged by season, including:
Spring: Honey Roasted Strawberry Muffins, Lamb Lettuce Wraps with Mint Yogurt Sauce, Spring Harvest Pizza with Mint & Pea Pesto, Kohlrabi and Chickpea Salad
Summer: Blueberry Lemon Ricotta Biscuits, Roasted Ratatouille Toast, Kohlrabi Fritters with Garlic Herb Cashew Cream Sauce, Farmers Market Burgers with Mustard Greens Pesto
Fall: Farm Girl Veggie Bowls, Butternut Molasses Muffins, Early Autumn Moroccan Stew, Collard Green Slaw with Bacon Gremolata
Winter: Rutabaga Home Fries with Smokey Cashew Sauce, Hoisin Glazed Brussels Sprouts, Country Girl Old Fashioned Cocktails, Tumbleweed Farm Winter Panzanella
Andrea's recipes focus on using whole, locally-sourced foods—incorporating the philosophy of eating as close to the land as possible. While many recipes are naturally gluten-free, dairy-free, or vegetarian, many others include elemental ingredients like bread, cheese, eggs, meat, and sweeteners, which are incorporated in new and inventive ways.
In short essays throughout the book, Andrea also presents an honest glimpse of life on Tumbleweed Farm—the real life of a farmer, not the shabby-chic fantasy often portrayed—offering fascinating and frequently entertaining details about where the food on our dinner tables comes from. With stunning food photography as well as intimate portraits of farm life, Dishing Up the Dirt allows anyone to be a seasonal foodie and an armchair farmer.