Holiday Wine Collection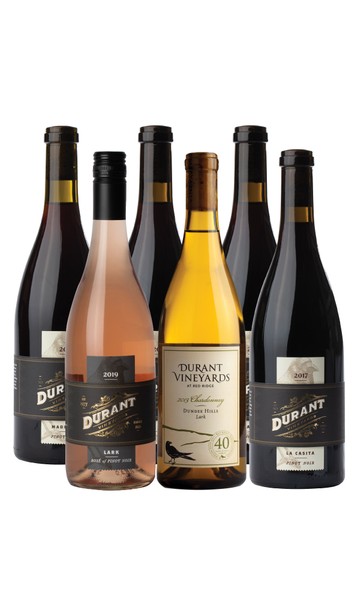 USE PROMO CODE: 'holiday15' AT CHECKOUT FOR AN ADDITIONAL 15% OFF!
2017 Madrone Pinot Noir: Leg of Lamb
Lamb, which is often considered both gamey and delicate, requires a pinot noir that is medium-bodied and bright, with good structure and acidity. Enhance this pairing by preparing your lamb with a tart cranberry sauce or glaze, creating the perfect match for the 2017 Madrone Pinot Noir.
2019 Rosé of Pinot Noir: Holiday Ham
Our rosé, with its crisp elegance and mouth-watering flavors of cherry, key lime zest, watermelon, and wild strawberry, will pair beautifully with your holiday ham.
2017 La Casita: Prime Rib Roast
Prime rib, with its rich flavors and typically fattier components, require a deep, hearty Pinot Noir. Our 2017 La Casita showcases aromas of black cherry and plumb, which integrate seamlessly with notes of mint, mocha, mushroom, and cardamom. The palate is a gorgeous integration of blackberry, anise, black pepper, lavender, and truffle that carry into a long and lingering finish, opening up endless preparation opportunities.
2017 Ava Roan: Beef Tenderloin
Beef Tenderloin, traditionally prepared both seared and rarer, pairs beautifully with the robust dark fruits and supple tannins of the 2017 Ava Roan Pinot Noir. This wine showcases aromas including black cherry, cinnamon, pepper, chocolate, and leather, and a complex palate of rich plum, dried tobacco leaf, and mocha.
2105 Cardinal Pinot Noir: Pork Roast
Pork Roast, a sweet and savory protein choice needs a wine equally savory, medium-bodied, and with a hint of sweet in its flavor profile. The 2015 Cardinal Pinot Noir boasts a complex palate of clove, ripe raspberries, plumb, and cedar, with a smooth and complex finish with hints of caramel and brown sugar lingering on the finish.
2013 Lark Chardonnay: Roast Turkey
Chardonnay is traditionally considered an excellent paired with turkey, due to its ripe fruit-flavored aromatics and palate, robust minerality, and heartier oak components. Our 2013 Chardonnay boasts smoky aromatics with an intense minerality on the palate and a creamy, lemon curd finish.