The Classic Gift Box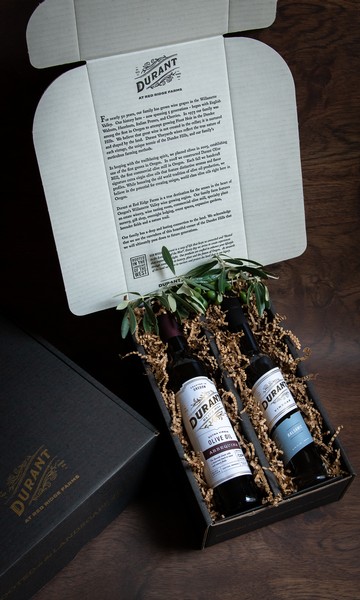 You can't go wrong with this time-honored combination of Durant Olive Mill Arbequina EVOO and our own Durant Classic Balsamic Vinegar. Create a quick and easy balsamic vinaigrette, serve with charcuterie, cheese, and bread, or use to roast your favorite seasonal vegetables.
• Durant Arbequina Extra Virgin Olive Oil - This Spanish olive is the most commonly used varietal in olive oil production. Aromas of freshly cut grass, sweet pea, and clove complement a luxurious buttery mouth-feel, with flavors of raw almond, chamomile, and white pepper. Liven up sweet or savory dishes or drizzle with a pinch of salt over ripe avocado, seared scallops, raw fennel, or vanilla ice cream.
12.7 oz | 375 ml • 100% Extra Virgin Olive Oil • Milled & Bottled in Dayton, OR
• Durant Balsamic Vinegar - Aged in Modena, Italy for 8 years and bottled at the Durant Olive Mill.
A bright, ripe fruit flavor profile that is sweet and tart with a slightly caramelized finish. Pairs beautifully with our Extra Virgin Olive Oils for creating wonderful salad dressings, for dipping bread or pouring over aged cheddar cheese as an appetizer.
4% Acidity • 6.76 oz | 200 ml • Bottled in Dayton, OR
• Durant Gift Box